How to Order and Contact Us
How to Order
Call or come in with your stone needs and information
We will quote pricing for stone & delivery
Pay deposit for stone or delivery
We will put the order together

Pull stock materials
Produce any stone not in stock
Cut Special cut orders

We will call when order is ready or when leaving with delivery
Balance will be due when stone is picked up or delivered
We accept cash, credit cards, checks or wire transfers.
No out of state or counter checks please.
Out of State sales – By Wire transfer or Certified check
Location
Loukonen Bros. Stone
12993 N. Foothills Hwy
Longmont, CO 80503
Directions:
We are 12 miles North of Boulder on Highway 36.
.2 miles South of the intersection of Highway 36 & Highway 66 on the West side of the road
Hours:
Monday - Friday 9am-4pm
Loading until 4:30
Note - we will be closed December 23rd - January 10th.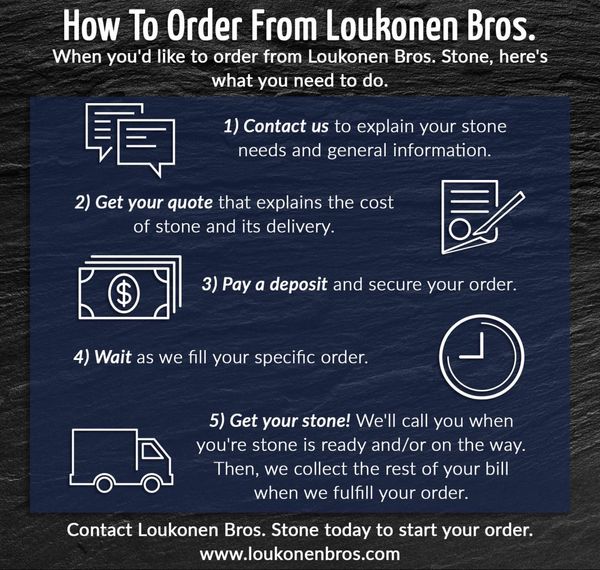 Contact Our Quarry Today!
Loukonen Bros. Stone would love to hear from you! If you've made it this far, we know that you have an appreciation for natural stone. Whether you're thinking about updating your backyard patio or planning construction for a new building or facility, our quarry can help to bring your vision to life. We believe in keeping business straightforward and simple; we'll give you a fair price and make sure you understand everything about the landscaping stones, flagstone, boulders, or any of the other beautiful varieties of decorative stones we offer. We sell to the public and will deliver to Denver, Boulder, or anywhere else on the Colorado Front Range. We encourage you to ask any questions that you may have about the availability, uses, and prices of our natural stone products. Simply fill out the contact form below and one of our representatives will get back to you shortly. Thank you for your interest in Loukonen Bros. Stone!
Fill out the form below to get in touch today!