Ledgestone Strips
Top Rated Local® Business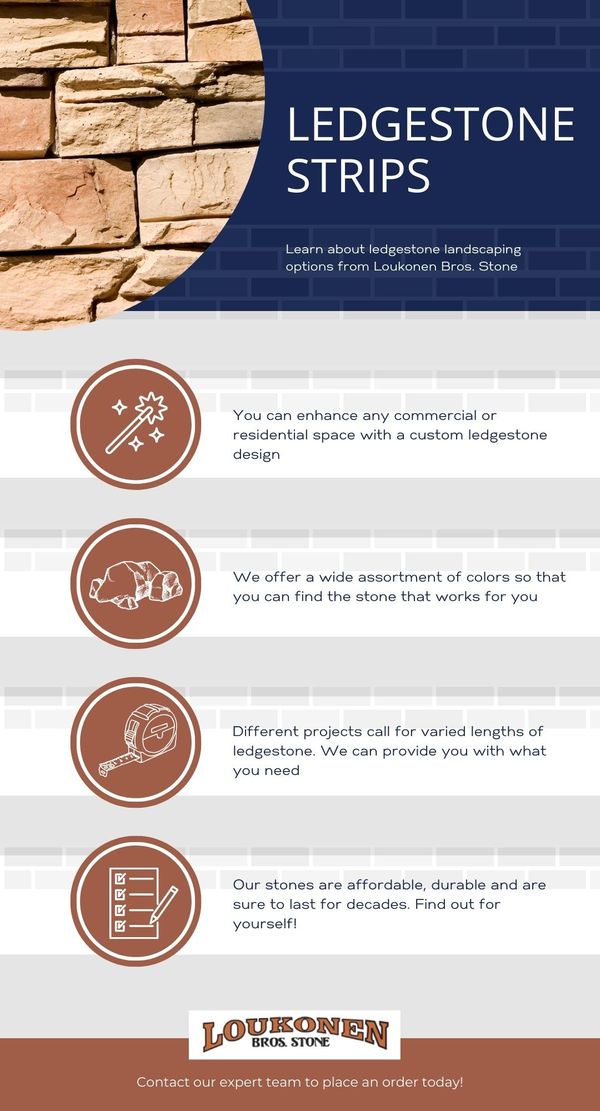 Ledgestone is exactly what it sounds like, stacked stone that is used in strips or ledge-like designs. Ledgestone strips have been used in horizontal stone work design for hundreds of years and are recognized for their beauty and functionality.
Patterns using ledgestone strips are typically stacked individually to create stunning patterns in both indoor and outdoor natural stone applications. Masons often use ledgestone strips to create exterior retaining walls or while constructing fireplace facades for both indoor and outdoor settings. The variety of colors and stones available, like flagstone and sandstone, make ledgestone features diverse in both their application and their beauty which is expected to last for decades and beyond.
Contact Loukonen Bros. Stone today for a free consultation, our latest pricing, or to order your stone.
4″ Strips (Ledgestone)
Size: All strips are 4″ width, Random Lengths & Thickness

Thickness: (Bed Depth) Normal range 2″ to 6″ thick. Jumpers – 7″ to 12" (less than 2″ or greater than 12″ are special order)

Coverage: Estimated to cover 35 to 40 square feet per ton

Uses: Random Ashlar Veneer Walls, Landscaping Edging, and Risers for Stairs

Color Range: Lyons Red – Will range from reds, pink, salmon and oranges

Colorado Buff – will range Grays, tans, brown

Lykins -Will range Pinks, whites with veining
Assorted Colors
Lyons Red Naturals -Reds, Oranges, Golds some Black

Lyons Red Bacon – Red, Orange, White, Pink Veining

Colorado Buff Naturals – Browns, Tans, Golds, Black

Lykins Naturals – Pinks, Burgundies, Blacks, Orange
2″ Strips
Size: All strips are 2″ wide with random lengths and thickness

Thickness: (Bed Depth) Normal range 2″ to 6"

Coverage: Estimated coverage 70 to 80 square feet per ton.

Uses: In place of the 4″ strip when there is a weight concern

Color Range: Same as the 4″ Strips